ON THE RECORD: Musician interviews
LNL is curious about music and musicians.
We came up with a list of questions to help us better understand music and its connection to musicians. We've been asking some of our favorite musicians to enlighten us and help us find some connections and satisfy some of curiosities. We recorded their answers and we'll be compiling them as we go forward.
As an ongoing initiative and now we're asking some non-musicians to help us get a read of what people are thinking.
Production
We've got what you need and what we don't got – we rent!
Partnering
We just partnered with Ann Marie Allison to help her produce Lift. Lift just won the audience choice award at DC Shorts.
Social Responsibility
We are members of the WIFV, AIM, Arlington Leadership, and other community stuff. We're all about helping (and lunch).
Studio
Do we have a studio? No, you have a studio. Visit us at 2762 Washington Blvd. Arlington, VA 22201. Think of it as a canvas for your visual media.
Last Name Left's first endeavor, "Chasing the Groove" is a cinema-verite trip through New Orleans, the first Jazz Fest after the "thing." It was produced to raise money for New Orleans charities (MusiCares, the Tipitina's Foundation and the New Orleans Musician's Clinic) through "Funkraisers" and stars Papa Mali, Galactic, Walter "Wolfman" Washington, Coco Robicheaux, the New Orleans Jazz Vipers, Billy Iuso, The Soul Rebels, MG5, Theresa Andersson, the Pimps of Joytime, Joe Krown, Bonerama, Papa Grows Funk and Russell Batiste, Ivan Neville, George Porter, Adam Deitch, Eric Krasno, and a bunch of special guests who formed the monster super group Jamakazi. Please contact us if you'd like a copy. Not to brag, but we feel it's the greatest funkumentary of all time.
We also produce videos for our friends and for fun, like DC Traffic's Relate.
We produced "If I Can't Dance" a documentary showcasing the wonderful effect that dance has on people suffering with the symptoms of Parkinson's Disease. It recently premiered at the Rehoboth Beach Film Festival. It's the inspiring story of how Lucy Bowen McCauley inspires her Parkinson dancers to perform on stage and dance away the disease.
We recently created a video to promote the Nine Lives Musical Project for our partners, threadhead records. Apparently we presented a compelling cause because they were awarded a $50,000 Pepsi Refresh Grant. Now Paul Sanchez and Coleman DeKay have produced a musical soundtrack of the Dan Baum book "Nine Lives." Follow their progress at.
Death Beach answers the classic question – What happens when four ex-college roommates go to Death Beach to find their buddy a lover? Hound, Rat, Chicken, and Jack reunite at Death Beach determined to find a girl for Chicken. Jack thinks that Chicken needs better dance moves to impress someone. Hound promises to use his charm for Chicken's sake. Rat has a devious plan of attack. Chicken just wants to get plucked. Just their luck, they meet some overtly friendly women who like their style. Even so, Chicken can't seem to get lucky. Because at Death Beach you better be willing to go all the way to go all the way.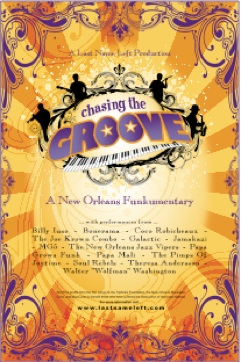 Last Name Left Productions
2500 25th street,
Arlington, VA 22207
2762 Washington Blvd.
Arlington, VA 22201